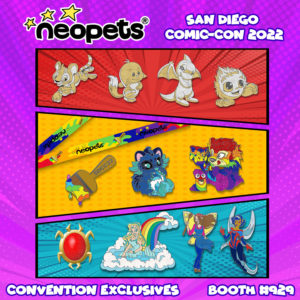 Neopets will be attending San Diego Comic-Con next week and have a host of activities planned!
Booth #929 Activities:
Purchase: What's Your Passion Jewelry has created 4 limited edition hard enamel pins (Shoyru, Kacheek, Kougra and JubJub) for purchase in silver and gold glittering detail. WYP will also be showcasing their newest Pride additions as well as their first piece of costume jewelry. The Neopets plush line (Snowbunny, Rainbow Slorg, Island Kadoatie, Faerie Draik, and Royal Meepit) will also be on sale for lucky Comic-Con attendees!

Giveaways: Take your photo in front of the Neopets Banner Wall and show us your tagged photos with #NeopetsSDCC2022 for free Neopets swag such as collectible and holographic stickers, paint brush pins, Upper Deck trading cards and commemorative SDCC2022 rainbow lanyards!

Interactions: Meet members of The Neopets Team and What's Your Passion Jewelry!

Contests: On Sunday, 5 lucky winners will be selected from all those who took photos and used our hashtag: 4 will receive an exclusive "life-sized" Faerie Draik, and 1 will receive the complete plush collection! There will also be impromptu giveaways and raffles throughout the event – check in at the booth for more information!
Check them out in booth #929 (co-located with What's Your Passion Jewelry) and be sure to also stop at booth #307 (Upper Deck) for a sheet of Neopets Trading Cards! (this is the same set that was distributed at NFT.NYC last month)
For those not able to attend the following will be available at wypjewelry.com starting on July 20th at 5pm Neopian Time through Sunday, July 24th
The four limited edition pins will be available for purchase for $12.99 each (They will be available only until the end of Comic-Con, at which point they will retire.)
All of WYP's Neopets Jewelry will be 20% off.
The first 200 online orders of $50 worth of WYP Neopets merchandise will receive a free Rainbow Paint Brush Pin and Lanyard set. (these will NOT be available for sale otherwise and you will need to add the item to your cart and enter promo code SDCC for it to be free.)
Also be sure to visit this link while logged in to your Upper Deck e-Pack account to claim the three digital promo cards (Fyora, Ilere, Darkest Faerie)! (this is same set awarded with the code on back of above mentioned sheet and you will only be able to claim it once, either by this special link or by entering the code.)
Follow us on twitter for the latest Neopets Merchandise Updates!